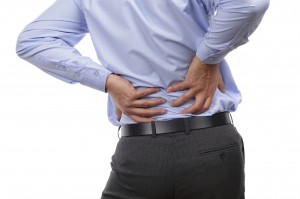 This week I want to share a Bowen Success story with you from Frank Dunphy of Palmwoods on the Sunshine Coast who I treated for a severe back problem many years ago. I'll let Frank tell the story in his own words and hope you enjoy the interview.
Hi Frank, how are you?
I'm feeling much better now thank you Kristin and I know that's thanks to you and your Bowen treatments.
That's great news. Please can you explain what your health problem was?
In 2006 I was diagnosed with a prolapsed disc in the L4/L5 region of my lower spine. This injury affected my posture to the point where I was leaning forward and to the left. I could not stand up straight. I had sciatic pain in both legs. In my right leg the pain went right down to my foot and in my left leg it went down to my ankle.
I was only able to sleep for approximately three hours per night with the assistance of strong painkillers.
After about a week, the pain and sleep deprivation started to cause emotional stress.
I was given three months off work by my GP and referred to a neurosurgeon.
The neurosurgeon recommended that I try physiotherapy for a month before considering surgery. Thankfully I didn't need the surgery, as the Bowen therapy was a success.
Yes Bowen really caused a huge turn around. So why did you try it? How did you hear about it?
I had known Kristin from Northstar Healing Therapies for a few years prior to my injury. I injured myself playing sport a few times and she offered to do Bowen therapy on my injuries. I found this to be not only successful but also the injuries recovered very quickly.
The main reason I tried it for this particular injury was when I saw Kristin after my back problem and she was stunned at my posture and immobility.
She strongly suggested that I came to see her.
I had tried physiotherapy which was only causing more pain and I knew Bowen was quite mild compared to what I had tried in the past so I was keen to give it a chance.
Had you tried other forms of therapy before?
I'd tried physiotherapy, electrotherapy, chiropractic, acupuncture, remedial massage and many others I'd rather forget. None of them worked like Bowen therapy did.
Can you tell us what happened during and after your first session?
In my first session it was difficult just getting up on the table. I could not even straighten my legs once up on the table. I found that some of the treatment was a bit painful due to lack of mobility, but as I said I've had much worse. I did notice a few days later that the sciatic pain in my legs had slightly subsided which was a great sign.
How many sessions did you have?
I had one session a week for about three months, once a fortnight for about two months then once a month for about three months.
The improvement was huge and although I was given three months off work, I returned to work after two months.
Have the results lasted?
Yes they have. I have had a few times where the injury has reoccurred but it's never been as severe as the initial injury.
Do you come back for ongoing treatment?
Yes I average about three or four treatments per year.
I have no hesitation going for a treatment when my back does become painful. It can usually be rectified at most in three or four sessions.
How do you compare your body before and after?
Before I started going to Bowen, I found that my back was regularly restricted and movement compromised. I have always played sports such as golf, touch football and fishing.
I would regularly injure my back doing these activities or just not do them, as it was too painful.
Since then, I seem to have more mobility in my back, no pain and it very rarely plays up. Now I can enjoy the activities I love and this keeps my state of mind healthy.
What would you say to anyone who was considering Bowen therapy for a bad back?
I highly recommend it for anyone with these types of injuries. If you have had an ongoing problem remember it may not be fixed in one or two sessions but if you stick with it, you will get the results you are looking for which in turn will give you the quality of life that you are entitled to!
Thank you, Frank, for sharing your success story with us. It's been a pleasure to work with you and I'm so happy that Bowen has been able to help you get your health and life back on track.
Have you got aches or pains? Contact us now to experience how Bowen can help.