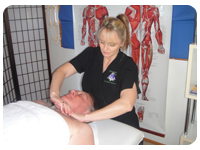 It's amazing to think I've been in the Healthcare industry for 30+ years and practising Bowen for nearly 20 years. The saying that time flies when you're having fun certainly holds true for me. The years have whizzed by in a good way, with plenty of hands on time with clients, lots of fun training groups of students and of course as much time as possible with my family.
Over the years I have learnt heaps from my teachers, students and from my clients. Do not be afraid to stretch your abilities.
Here are a few lessons I've learnt over the years that might help you as you start or extend your Bowen career.
1. Bowen is a Journey not a Destination!
Bowen Therapy is a continual source of education and learning. That's what has kept me interested after all these years. There are no limits to how it can be used, the benefits it can bring or the learning opportunities it can offer and that's all part of the fun.
Everyone is different
Although many clients come to me with what seems like the same problem on the surface maybe a bad back, poor digestion or arthritis every client is different. As well as the condition that is presenting the most concern to the client, each will have different physical or emotional influences. Everyone is unique and must be treated as an individual from the moment they walk in the door.
Every treatment is different
Because each body is different you can't treat everyone the same. You need to be able to tailor the treatment to suit the individual in order to get the best results for their body.
Assessment is crucial
You need to take the time to listen to the client, assess their posture and symptoms, to enable you to gauge the nature of their problem. If you don't assess each client carefully you will not be able to treat their individual problems effectively. Accurate assessment allows you to choose the appropriate procedures to target the dysfunctional areas of their body thereby maximising the effectiveness of the treatment. The assessment process also allows you to identify whether the dysfunction is structural (joint related) or contractile (muscle related).
Keep good records
Tracking client progress always helps create better outcomes and the more accurately you can record their progress with notes, graphs or photos the easier it is to track their improvements.
The body is an amazing organ
I've seen so many amazing healings come about through Bowen therapy. In particular I'm often amazed by how fast people are able to rehabilitate with the help of Bowen Therapy after an accident, a stroke or an operation, supported by a range of stretching and strengthening exercises to help rehabilitate the body. The work we do during a session can be enhanced when a client commits to practice these exercises between sessions.
Learning opportunities are everywhere
Even as a Bowen trainer I will always be a student. Just one example – the increase in my knowledge of medical terminology and anatomy had been a result of training and communicating with other health professionals from a wide range of medical and therapeutic backgrounds.
Sometimes a client needs more than three sessions
Body maintenance is essential for people who continue to work or participate in the exercise, activity or sport that aggravated their condition in the first place. As Bowen therapists we are privileged to be able to help people to heal, but many people, those involved in physical labour activities, will need ongoing treatment to manage their condition or pain whilst they still involved in that activity.
Think outside the square
Reading relevant texts including medical, physiological or scientific journals will help you create a holistic view of the body's continuum. One book I recommend is Anatomy Trains by Thomas Myers – it's an absolute must for all Bowen Therapists.
Modern technology is gold
We are so fortunate to have the Internet at our fingertips for continued research and learning. In particular l love the many useful apps available that I can use to illustrate and explain topics to students or to clients. It's fabulous to know this information is available at your fingers tips anytime.
Contact Kristin now to find out more about treatments or training sessions on the Sunshine Coast, Queensland or in Adelaide, South Australia.